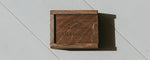 What a year it has been! We're so grateful and happy to have so many amazing clients around the world, that bring us gorgeous projects and inspire us to create! 
In 2018 we worked with more than 20 different colours, 10 types of wooden boxes, 2 types of engraving and that still wasn't enough for you guys! So, we introduced a new opportunity with no limitations for your fantasy: CUSTOM MEASUREMENT AND DESIGN BOXES starting with 20 pieces. 
Looking back at 2018, your choice of colour most often was either WALNUT BROWN or WHITE WASH.
While choosing engraving, we offered you two options: light and dark. Where light engraving is done after staining and dark one - before, so stain covers engraved parts and makes them darker than the box itself. (Fun fact: with white colour it is opposite) In 2018, as much as 80% of you chose DARK ENGRAVING.
In 2018 we introduced one more model of 8x12 WOODEN BOXES. And our biggest news, that we talked about and kept in in our heads for almost a year, until it finally came to life: HANDCRAFTED LEATHER PACKAGING. In 2018 we offered you leather envelopes for 4x6 prints and leather pouches for USB drives in two colours. In 2019 we're already working on some new models and looking for some more amazing colours of leather to offer you.
Thank you all for sharing 2018 with us! And let's have amazing, adventurous and beautiful 2019, full of amazing moments to capture 📸.

--
Lamb & Raccoon team