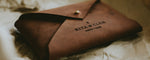 Wooden boxes for prints, small boxes for USB drives and some saddle leather envelopes. Here is a selection of work we did in August.

One of the most common questions about our leather envelopes is how much prints can they hold. Our answer always begins with "it depends on the thickness of the prints". Here we have a great example - we can easily fit 25 thick fine art prints in our 4x6 saddle leather envelope. We could fit 50+ regular prints in the same envelope, because the prints would be thinner and take less space. 

Not sure about the sizing of our packaging for prints? Feel free to write us and we will be happy to help you!